The Searching can now be found at http://www.searchinglife.com
Please update your links
12/30/2003
Global Perspective
Yeserday I was inspired to blog by a great conversation with a friend, but shortly afterward, I read about
the earthquake in Iran
, and completely lost my appetite to write. I became so overwhelmed by the triviality of philosophy--and even the triviality of my own pain in light of a world with much more to mourn than busy days and time missed with the family. It's amazing how sheltered we are here in our American bubble, from sharing in the struggles of the world. Not just sheltered from experiencing pain itself--but sheltered from even allowing the pain that the human race endures every day to even infiltrate our safe and As I watched CNBC later, I listened to a reporter describe the vast, catastrophic damage, the 25,000 to 30,000 that are now dead, the bodies that are piling up in the streets due to lack of space in the cemeteries, and the 100,000 that are now homeless--and then cut right to clips of the presidential race, the weather forecast, and a teaser on whether or not I'm getting the best deal on my health insurance--to "hook me" into staying tuned through the commercials that would follow.
"Round-the-clock relief efforts were hindered by piles of bodies in the streets, overflowing cemeteries, bitter cold at night, rain, aftershocks and some looting."

"I believe the (death) toll will reach 30,000," said a government official in Kerman province, where the quake struck before dawn on Friday, destroying about 70 percent of Bam's mainly mud-brick buildings while people were asleep inside them.

Tahereh Taherian, a 45-year-old housewife, said she had lost 60 family members in the quake. "God is testing us," she said. "I'm thanking God because one of our sons has been left alive."
Regardless of the belief that God brings destruction like this on people--one that I believe is a very damaging and contrary to what I believe about his character--that woman's committment to her faith and gratitude to God for the one son she has left is amazing to me. I realize that most of that culture is conditioned to believe that God is the origin of all that happens around them, and that their belief in that God is based in fear and a very superstitious, rudimentary understanding of their world--but I'm still humbled by her response to the pain of her loss.
I'm cut by the resilience of her gratitude
.
As of this morning,
BBC
estimates there may be as many as 50,000 dead.
12/23/2003
6.5
Yesterday an earthquake measuring 6.5 claimed the lives of two in Paso Robles, California, about 90 minutes north of Santa Barbara. The quake shook buildings from San Francisco to Los Angeles, destroying many of those at its epicenter. Read the rest of the
article.
Not to trivialize the tragedy of a disaster like this, but we felt a good shake here in Santa Barbara. Some saw the rolling of their floors, and many the heave and sway of the earth beneath. At my folks home in Santa Maria, my sisters fell down, and a few pictures came off of the wall, but everyone was ok. Here at the office, I happened to be visiting the head when the quake hit, and was wondering if I was having a vicious blood rush, as my body lost all sense of balance.
The quake's damage was minor in comparison to the Northridge Earthquake in 1994, which measured about the same. The Northridge Earthquake hit a densely populated area near Los Angeles and killed 72 people, injured 9,000 and caused an estimated $15.3 billion in insured losses.
At that time, my wife lived 10 minutes from its epicenter, and was huddling with her family in a doorjam throughout the quake.
God--flood the injured with your love and peace. Comfort those in mourning. Please protect your children from those that may still come.
The Wish List
Aaaahhh dear friends, Merry Christmas Eve eve. It's the 23rd of December, and all is merry and bright. Right now it's raining outside here in Santa Barbara. I've still got a few things to pick up for people, but by and large I'm done. which means I'm finally in that much anticipated state of mind that envelops me in the excitement of Christmas, and the appreciation of the elements. Last night my wife and I exchanged gifts, so that we could have a special moment alone with our family before we drive to both of our families homes over the next four days. It was great.
I love my wife.
Selah even helped me unwrap my gifts--though she was far more interested in the wrapping paper than the gifts themselves.
Which is why that's all I'm getting her this year.
Tonight, after the advisors' meeting, I will be driving my family uyp north to visit my folks for Christmas Eve and the first part of Christmas day. Then we will drive south to L.A. for the remainder of Christmas day and my birthday, the day after. There are many kids on both sides, so what we've done for the past two years to make it easy on everyone, is to set a max gift price at $10 for the kids. It's forced us to be extremely creative, which honestly has made gift giving so much more fun. This year, Gina and I went a little overboard. We conformed to the $10 rule for all of the main presents, but secretly packed stockings for everyone with other gifts. We filled them mostly with little knick-knacks, a few nice gifts, and a couple of teasers. My favorite teaser has got to be the rearview mirror hanging air freshener that I picked up, which comes in the shape of bacon. That's right friends, bacon. The wrapping says, "Smells like hot, sizzling bacon!" I thought to myself while laughing, "who wouldn't want to smell that everytime they got into their car?" Other favorite teasers include: Nunzilla (a wind up nun whose eyes flash and mouth breathes sparks), a remote controlled car about the size of a "hotwheels" toy, and a "Spy Ear" (listening device with an ear bud and remote control reciever the size of a half dollar).
Nunzilla: $3.99
Silly String: $2.99
Remote control mini car: $6.00
Spy-Ear: $4.99
"Buns of Steel" workout video: $0.00 (re-gift)

Bacon-shaped air freshener that smells like real bacon: PRICELESS
Well, I've got to get some real work done. I may not have a chance to blog again before Christmas, so have a Merry, Merry Christmas, and make sure to wish Jesus a happy 2007th birthday!
12/19/2003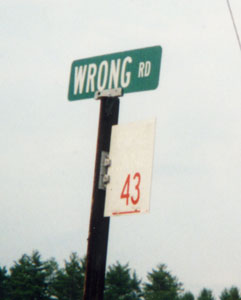 Wrong Turn
Every blogger has certain aspirations, and maybe if they're are driven, they've made a list of things they want to accomplish through their efforts as transparent authors of progressive biographies. And maybe, if they are distungingly disciplined, they've also assigned calendar dates to calculate a timeline for those goals.
That said, this morning there was dancing in the streets, as goal #43 was accomplished--about 8 years earlier than I expected. And now that my goal of having someone reference Sinead O'Connor in a comment discussion has been accomplished, I think we can all move on. Thanks
Jeph.
You see, when someone casually references Sinead O'Connor--for any reason--it's a pretty good signal to me that the ol' blog desperately needs something else to discuss. This is when I as the author have to step in and say, "Enough is enough." I have to climb over the front seat at this time and take the wheel--to steer the conversation away from certain disaster.
Which is why I would like to submit the name, "Tony Danza", in hopes of throwing the blog a life preserver.
Anyways, life's been very busy, but my family is doing pretty well. My wife went in for an EEG and an MRI yesterday, so that the neurologist could analyze her migraines. We should hear some news next week--hopefully news that will offer us ideas on what we can do to build her health up. Selah is also doing well, as her chicken pox have now about completely scabbed over. I had so much fun playing with her last night.
Last night, as I climbed into bed last night with my wife, she put on our wedding video--something I'd never seen. I don't know why I hadn't seen it yet, I guess the last few years have gone by faster than I had expected. Anyways, she put it on, and we watched the entire thing.
It was beautiful.
I laughed many times, cried, and was reminded of how much my wife loves me, and of how many people love us. It also reminded me of how long the service was, and how similar to the movie "My Big Fat Greek Wedding" ours was. The main difference being that ours was "My Big Fat Peruvian Wedding"--replete with a salsa band, heavy accents, and many cultural parodies. But overall, I think that everyone really enjoyed themselves--in fact, if I do say so myself, I think it had more energy than almost any wedding I've been to.
At first I was a bit negative on the ceremony itself: the various pastors that we invited to be a part of the ceremony, the monotonous monologues that rivaled Lord of the Rings in length, the abundant cliches and sucker-punch alter call. But my wife, the beautiful reflection of God's grace to me, reminded me that we had them involved for a reason--and that God had appointed them to be a part of our lives for that time. That there was a reason--beyond our desire to make sure the important people in our lives had a hand in blessing us on our day of covenant. What a beautiful day that was.
12/16/2003
Lauryn Hill
US hip-hop singer Lauryn Hill stunned leading members of the Roman Catholic Church when she accused them of moral corruption, exploitation and abuse from the stage during a Christmas concert at the Vatican.

Hill, 28, launched her diatribe in front of an audience of 7,500 guests at a packed Paul VI hall, used by Pope John Paul II for indoor public audiences.

"I'm not here to celebrate, like you, the birth of Christ, but to ask you why you are not in mourning for his death in this place," Hill said, reading from a prepared statement as she came on stage for her performance as part of a all-star gala concert.

"Holy God has witnessed the corruption of your leadership, of the exploitation and abuses which are the minimum that can be said for the clergy," she added, calling on the hierarchy to "repent".
Read the rest of the article.
Lauryn continues to gain my respect and admiration. She has alienated herself from her fan base by her committment over the last 4-5 years to authenticity and the pursuit of God and justice. She's left her image behind, and has stood fearlessly in the face of critics and fans who have left her to pursue the next hot artist. She has shaped the hip-hop industry as much as anyone, and yet gave up her legacy for an unpraised, unnoticed life of integrity. No one, in my mind, holds a candle to her talent as a poet and singer, I believe her efforts in authenticity and justice to be in the same class as Bono's from U2. The main difference however, is that Bono's heart has pushed him to the height of fame, and labelled him a saint; Lauryn's heart has left her isolated and ostricized.
All the more reason that I love her life.
12/15/2003
My Weekend
My wife had another really bad day on Friday. She thought she was feeling better, so we drove down to L.A. for her father's birthday, but her migraine started to get really bad again. It got so bad that I had to take her to two different hospitals to get a couple of morphine shots. Then I drove back to her folks house, picked up our stuff and drove back to Ventura.
Saturday was a much better day. My wife slept until early afternoon, and then felt good enough to go with me to my office Christmas party at the
Bacara Resort
in Santa Barbara. It was a good time--good wine, good food, and excellent atmosphere. I think my wife felt a bit out of place in the many pseudo-intellectual conversations, but she did just fine. She
was
the only woman there with a tattoo on her forearm--making her immediately self-conscious in the "old boys yacht club atmosphere", but I don't think that was the reason that she stuck out. She stuck out because she's beautiful. Seriously--my wife is intoxicatingly beautiful. And Saturday night, she looked as beautiful as I've ever seen her. Beyond her riveting beauty, she stuck out because she's a completely genuine person. In circles of affluence, so many are held hostage by their insecurities--they purvey as their image what they believe people would admire. Yet all of the commodities of success and wealth carry no weight at all with my wife. She's very perceptive, and immediately sees right through disingenuous people. I love that about her.
Overall the night went well. My wife sparkled more than all of the diamonds in the room.
Sunday my wife stayed home to care for my now chicken pox ridden daughter, while I went to
The Bridge
. The gathering was, as always, amazing. There's nothing like being loved on by family. The worship was sobering, the conversation inspiring and stimulating, and the whole night had a quieting effect on my busy heart. I felt like the stress and multitasking of the season had been hushed, and in the midst of that silence I was offered some much needed rest.
Today my wife took a couple more Vicodin and a shot of Imitrex to calm her migraine--so please continue to pray for her, if you have been doing so. If not, it'd be a great time to start.
Thursday she goes in to the hospital for a full neurological scan including an EEG and an MRI. Please pray that these test would not reveal anything serious, but that they would be profitable in assisting our doctor to treat and prevent these migraines.
Thanks so much.
Feliz Navidad
One of my colleagues just droped by my office and told me to go check this out. My apologies to all of my European and Canadian friends for the lyrics.
Check it out.
12/11/2003
My Day
Today was not a good day. On my way to work this morning, around 5:45am, my car broke down 15 minutes from the office, on the freeway. I had it towed into the mechanic's shop for $95, only to be told somehow one of my sparkplugs had fallen out while driving. I am thankful that it's not worse.

Today around 11:30am, my wife interupts a meeting I was conducting with a client. I pick up my cell phone to hear my wife crying. She's had a migraine for the past 5 days, and yesterday it was worse than it had been the previous four days. She took several Vicodin, and four shots of Imitrex, and the medication didn't make a dent in her pain level. She needed to be taken to the hospital for a shot of Demorall (sp?). Demorall is what they usually give her to knock her out for 24 hours, so that her body can mend itself. So i left my meeting, and came home. My wife had been throwing up all morning long--typical with her severe migraines--and was laying in bed with a plastic bag next to her. One of my close friends had driven me back home (a 35 minute drive), and offered to watch my daughter while I took gina to the Hospital. We got to the hospital, and waited almost an hour before Gina was administered medication. I was so pissed. Meawhile she threw up another 4-5 times, and groaned in pain. It's such a helpless feeling...

We got home after the shot, and Gina passed out for about 30 minutes. then she woke up, and began vomiting again, every 25-30 minutes, like clockwork. Selah was now awake, and was fairly cranky. We found out today in an earlier doctor's appointment that Selah contracted the Chicken Pox. This explains the fever last week and the cranky baby.

I called friends and family to inform for the purpose of prayer, and got mixed responses. My mother-in-law was an absolute saint. After I had exhausted my options, she offered to come up adn grab Selah, to allow me to attend the final Budget meeting for the Bridge Communities 2004. But, by the time she got here, I was so fed up with my poor wife's nauseaum, that I called the doctor on call at the hospital, and he wrote her a prescription for something to take care of that. So after a release in grace from my obligation to attend tonight's meeting, I drove to a couple pharmacies to track down Gina's prescription and brought it back. he took it, and threw up again about 30 minutes later. Now it's been another 60, and I think she might be ok for the rest of the night. I tried reading more from Erwin's book "The Uprising", but I can't focus right now. All I can think about is my bride.

God, all I want is for my family to be healthy. No more pain, no more discomfort. I want my wife's headaches to disappear, and I want my daughter's chicken pox to be expedited and minimalized. Please envelope my family in your touch, and be moved by your love for them to touch and comfort their bodies and minds. May stories of your tangible love and redemptive purpose be born out of these circumstances Lord.

12/09/2003
The latest
Last week was a hectic week. What else is new, eh? There was much catching up to do from time off over Thanksgiving, in addition to my normal workload.
Last thursday, my beautiful daughter
Selah
had her very first birthday. She asked us to throw her a party, so we complied. We invited all of her friends and relatives over to our place on Friday, and had a good time. Selah, however, was not feeling well--she had a fever all day long--so I'm not altogether sure that she enjoyed it. But she got many great gifts of clothing and toys, and I think everyone enjoyed the moment. We got some great shots of her eating her first cake, and compared them to a picture of me doing the same on my first birthday. They were almost identical, with the exception that I preferred eating my cake through all of the pores on my face, my hair, my ears, and generally any other oraface that was readily accessible to me. Gina and I had many plans over the weekend, but cancelled them all to care for Selah. So all day long on Saturday we cuddled on the couch and watched movies. It was a great day.
Sunday Selah felt good enough to go to
the Bridge
(in fact she insisted on it), so we went. What an amazing night. Worship was amazing, led by my wife and Greg. And the conversations--wow. Definitely more to come on the streams of thought that were created...
Yesterday all of the Advisors and Staff of the Bridge went to Disney California, and we had a blast. Selah decided she'd rather stay with Nana, Gina's mom, which allowed Gina and I to fully relax. And we had a truly great day together.
But now, back in the saddle, life is fully of details calling for my attention. Work to catch up on, a partnership to consider, relationships to lend my ear to, friends in distress.
God, give me the insight and wisdom in stewarding the time you've given me today, and be present in every minute of the day's labor.
12/02/2003
unblogged
I've been feeling a bit disconnected from the realm of the blogosphere the last couple of months. Life's been busy, and I've had only sparing time with which to blog. I've missed the conversations, and the feeling of comradary that comes from sharing your journey with people of similar passion and purpose.
So I wandered around through my blogroll and found many that feel the same. And I found many whose blogs were full of life I've been missing out on. So here's to you
Leighton
, and everyone else whose connection's have have bottlenecked due to cluttered bandwidth. Here's the newsbrief on a few random happenings.
1. Mike Todd's Goat Count. Actually, it's technically Robert's goat count. And it's catching interest like an avalanche of wild ducks. They're rallying people together to purchase goats for the poor in Uganda through World Vision for Christmas. They've even got Darryl in on it. So go check it out, and support the cause. Currently the goat count is at 7, Canadian, but I believe the exchange rate reduces that to 3 goats and a sack of corn.
2. Andrew's new blog. It's actually not that new, but it's something worth celebrating. The lofty thin man has finally made the move to Typepad, after a few months of transition. Go visit Mr. Jones' new high tech blog--you can even comment!
3. A Jon Reid Christmas. Jon and his lovely wife Kay filled their cd player with Christmas music the day after Thanksgiving (we beat you by two days--and yes, it was a race), and he announced that they will soon "assemble" their Christmas tree. Who assembles trees these days? Really. I'm a bit concerned, but I'm sure it has something to do with allergies...at least it better. Then again, maybe it's a water conservation thing. (they're from the bay area) =)
4. Jeph's daughter, McKenzie Grace rolled over yesterday morning for the first time. How fun--some of the best times in the life of a parent are found watching your child discover herself and the world around her. Enjoy it Jeph, soon she'll be borrowing the car to see a movie with some guy named Spike. Just kidding. No I am not--go buy a gun.
5. You're a mean one, Mr. Adkins. Greg needs your prayer. He hates Christmas. And he actually said that.
6. Todd, the blog tease. Found Todd Hunter's "new" blog a few weeks ago. Same Todd, different blog. When Todd writes, he's one of the greatest assets to the emerging diablog. I found it by accident, as there is no redirect or link on his old blog. One day he goes on vacation, and the next you know, he's got a new blog. But seriously, it looks as though he's joined the ranks of those who are committing to publishing their lives and ruminations, though time constraints make it difficult. I hope to see him find more time to do so.
7. Moby's review. If Moby's going to attatch his name to a statement like "record of the year", I might have to go check it out. The album he's referring to is 'empty the bones of you' by chris clark. "it's on warp records out of sheffield and it's a really unique and atmospheric record and it's my favorite record of the year."
That is all for now. I've got work to do.
12/01/2003
I'm back, and I brought the comments with me
What a week. Thank you everyone for the well wishes-- whether born out of comment frusteration, or out of Narcissism (I have a support group for that
Rudy
) =)
What is wrong with
Enetation
? And what is wrong with me in that I continue to use their service? If switching to Squawkbox wouldn't involve losing all of my previous comment conversations....
Anyways...I hope that all of your thanksgivings were great. Mine was good, despite some interesting family bouts. The best part of the week for me was spending time with Selah. She walks everywhere now, plays games, talks--it is so rewarding to be around her now that she is beginning to reciprocate love.
I tried to post twice over Thanksgiving, but both posts were lost in tragic gasoline fight accidents. So rather than dredge up all of the thoughts I wanted to share at those moments, let me recount the happy ones that are easily accessible to me.
Probably my favorite part of the days off I had (outside spending time with my wife and daughter), was the time I spent with my dad. We had some great conversations, including some in which he shared with me some details about his life and marriage to my mother. My dad's never really shared with me like that, as he was always certain to keep the lines of parent and child clear. And I appreciate that, but I felt honored that he now felt comfortable relating to me as another man. We also began hanging Christmas lights together--which is always one of my fondest holiday pasttimes. 10,000 down, 60,000 to go!
In other news, my dear friends
Craig and Stacy LittleJohn
have now left for the land of Texas, following the missional progression of God's call on their lives. You will be dearly missed friends.
Archives
04/01/2003 - 05/01/2003 05/01/2003 - 06/01/2003 06/01/2003 - 07/01/2003 07/01/2003 - 08/01/2003 08/01/2003 - 09/01/2003 09/01/2003 - 10/01/2003 10/01/2003 - 11/01/2003 11/01/2003 - 12/01/2003 12/01/2003 - 01/01/2004 01/01/2004 - 02/01/2004 02/01/2004 - 03/01/2004 03/01/2004 - 04/01/2004 04/01/2004 - 05/01/2004 05/01/2004 - 06/01/2004 10/01/2004 - 11/01/2004 11/01/2004 - 12/01/2004 12/01/2004 - 01/01/2005 01/01/2005 - 02/01/2005 02/01/2005 - 03/01/2005 03/01/2005 - 04/01/2005 05/01/2005 - 06/01/2005 06/01/2005 - 07/01/2005 10/01/2005 - 11/01/2005 12/01/2005 - 01/01/2006