The Searching can now be found at http://www.searchinglife.com
Please update your links
9/23/2003
my beloved's birthday
Yesterday was my wife's birthday. To celebrate it, we decided that we would gather a large group of people together for dinner and dancing at Universal Studios' Citywalk--a long, dense, brightly lit strip mall that poses as a mini metropolis of shops, restaurants, and clubs.
The invitation went out to all of our friends(
interesting parallel here
), and to ensure that no one was left out, we invited everyone in the community. I remember the excitement in Regina's voice as she totaled the RSVP count for me..."45". How cool. So many are committed to celebrate my wife's special day. Well, Saturday night came and sure enough, we wound up with a table of about 45 at Hard Rock Cafe. A few of the guests had invited their own guests, but it didn't matter. What mattered is that all of her closest friends were there. People continued to trickle in for a while, and space got tight until there was no longer room for everyone at the table. As I tried to manage the situation and create room for everyone, patience began to run a bit thin--starting with me. Regina was also getting a bit frustrated, and that didn't help me much. She covered it up pretty well, but I could see it--and hear it--clearly. After a fairly poor private demonstration of my character with one individual (and after dear friends gave up their seats and left to accommodate newcomers), we were finally settled in.
The rest of dinner was interesting. Not to use that flippantly--the meal and conversation were good, but they were also very interesting. One of my close friends happened to drive down from San Luis Obispo to share the evening as well. He is notorious for his pinpoint articulation of situations and feelings, and tonight was no different. As we walked to our car after dinner to drive to the Salsa Club we planned to dance at, he made this observation.
"You know, it's always interesting when you get a group of church people together--outside of church or the faith they have in common, they don't know what to do with themselves."
Now Justin does not share a whole lot in common with me in his spirituality. But in some ways I think this gives him a valuable outside perspective. As he began to explain what he meant, he described the difference between what we commit ourselves to because of our beliefs, and what we believe because of what we commit ourselves to.
"It seems like most Christians commit themselves to love people because they believe they should and that it's right to do. Embodying that love to another individual is practiced with the same diligence and effort as they put into their devotions, I suppose."
Hmmmm....
When we arrived at the Salsa club, about 20 of the 45 came with us. While we stood outside waiting for the rest of the group, about 12 of the 20 decided to leave. There were various reasons including--"That's really not my kind of music", "I don't really know how to dance Salsa", "We're going to go see a movie instead", or "I think we're going to ahead and go home." Not that any of those responses in any other context would be bad--maybe they weren't even bad considering the given context. So 8 of us went inside and danced for about two hours before leaving to go home. When Regina and I got home, we sat up and talked for about an hour. Going through the range of emotions, we began to discover something that I think is important to wrestle with.
When we finally came to admit that we would've probably done the same, in most circumstances, as our guests did, it allowed us to see something about our lives, and about the lives we want to live. In most circumstances, our love for people is initiated and carried by our beliefs. Inherently, that may be ok until you analyze the reverse. Your love then is born only out of faith, and is dependent on that faith to exist. You don't really embody love, it becomes a programmatic extension of your faith. Not universally, and not in all cases, but in principle. Regina began to describe who she trusted--who she truly trusted. And surprisingly, faith was not the highest common denominator. In fact, in many cases it was not even a factor. As we talked, we stumbled on the realization that those that we trust the most are those whose love for us is natural and transcends circumstance and commonality. We realized that love must transcend faith in order to be authentic. We need to go beyond teaching people to love because _____. We need them to be people of love, before people of belief systems.
The humbling part of it all? We have only a slight idea how to love like that, and a quick survey of our lives reveals the same shortfall.
"Beloved--Let's love one another. For love is of God, and everyone that loves is born of God and knows God. He that doesn't love, doesn't know God, for God is love....When we take up permanent residence in a life of love, we live in God and God lives in us."
1 John 4:7,8,16
[emphasis added]
Saw
Insomnia
again last night. Great movie. It's dark, but it explores fantastic lessons in integrity and the consequences of decisions, reminiscent of
The Good Girl
.
Thursday morning I leave for the manfest at lake nacimiento...I'm looking forward to the time of rest and relaxation, and to time spent in the Story of God while meditating in creation. This afternoon I'm going to take off a bit early and drive up to Santa Maria. I get to celebrate my baby sister's birthday with her, and take her on the maiden voyage of her new surfboard. Should be a blast--though I'm not looking forward to the drive time (3 hours 10 minutes round trip).

lectio divina
I've got a bit to unload today. Recent experiences, thoughts, tensions, lessons. It will probably come out the way I process things mentally--very chaotic, raw and three dimensional.
To start off my morning today, when I got into the office around 6:00am, I began to dive into Luke's account of Christ's life, in chapter 7. This entire chapter is gripping--from the simple faith and kingdom understanding of the centurion, to the prostitute's example of love and gratitude.
God I love that woman's brief encounter with you
. Reminds me of that
Delirious
line: "...For I was born, to kiss your feet..." What a great song. Anyways, as I was reading this morning, something else gripped me. Setting the stage, Jesus has had a fairly busy day so far, having stayed up all night on a mountain in prayer, taught and touched multitudes for hours that morning, and then had a nice little power walk over to Capernaum from who-knows-where. Upon his arrival at Capernaum, he was immediately confronted with a plea to walk a bit further to a village in Capernaum and heal a military officer's servant. And then another village.
I know its early, but this is wearing me out...
Finally, knowing exactly where he was going all along, he
happens
to be in the right place in that village when a funeral procession goes by. What a coincidence. Being moved by the tears of the deceased boy's mother, Christ gives the boy back his breath, and the boy returns to life. The reaction of the crowd is what gripped me.
They all realized they were in a place of holy mystery, that God was at work among them. They were quietly worshipful--and then noisily grateful, calling out among themselves, "God is back, looking to the needs of his people!" The news of Jesus spread all through the country.
They all realized that they were in a place of holy mystery...
Interesting. Christ had been healing people from radical conditions, and restoring life all day long.
Literally.
What made this response so unique? I'm sure the crowds from earlier in the day followed him to Capernaum--if listening to him teach was worth taking off work for, I'll bet that the acts of the miraculous captivated that audience and created quite a following. Not only that, but all throughout the story of Christ, people witnessed the work of God through him and remained calloused--like the religious leaders for instance. So, what was different in Capernaum? Was it that a dead boy was given his life back again? Or was there something more?
And here's another thought: how are they saying, "God is back"?? Sure, many scholars of hermanuetics might immediately fall back on the four hundred year period of time in which the nation of Israel recorded no interaction with God. But God had seldom, if ever, interacted with the Israelites in such a personal, emotional way. I wonder if maybe that's where the mystery was. The mystery of One who shares the character and abilities of God, yet has made himself available tangibly to makind.
Though the revival of the boy was miraculous, I wonder if maybe that was just the outflow of the mystery at work--an outflow of what crippled the noise of the crowd. That this man, Jesus the Christ, showed a dimension of the heart of God that the Israelites had forgotton--if they had experienced it at all. That God desired to exist and move
among
them, and was not immovable or removed from their grief, but present in each tear.
I love that Christ created Mystery wherever he went, but the response of the crowd also presents an interesting thought. You have to understand a bit of Jewish history (not that I'm an expert), but the Jewish people were currently under the oppression of the Roman empire, and expected a messianic figure to come and deliver them from that oppression. Now when I look at their response, I see two entities: the soul's reflex to an experience with God, and the human condition in processing the nature of that experience. I wonder if maybe, their reaction of silence, awe, sobriety, worship--maybe that was the natural aftermath of that holy interaction with the Mystery. But then as they began to process what had just happened, they started to
interpret
what it meant for them as a people. I wonder if maybe they missed the beauty of what God
was
doing, by subjecting that that Mystery to what they wanted him to do. In mystery exists the unknown--the unfamiliar; maybe those people on that day did what we so often do. Rather than wrestle and wait in our soul's quiet worship, we often force what God may be doing around us into what we think he might be doing.
:: Father, I'm not sure how to disconnect from the the subjective nature of what I want to see you doing. I'm also not entirely sure how to wait--how to retain the tension in mystery without immediately filtering it through what i think. But it seems to me that the two are related, and that the concepts of tension and mystery aren't just the latest in our developing lexicon of church analysis. I think that they are to become the actual fabric of the future--a necessary perspective that may have been ignored in the past for the sake of reducing your story into bitesize pieces. In the life you've given me, teach me how to remain at that holy place of mystery--the place where you are moved to revive my environment, and the place where I remain in the sobriety of awe. Design my days as you did your Son's, that I would find myself constantly among people at their time of need--I want to be at the city gates when the funeral procession goes by. I want to be moved with the emotions of the people I am surrounded by, and I want to be filled with the realization of the holy mystery, and witness your touch in the lives around me. Teach me... ::
9/18/2003
life passing by
This week has come and gone faster than I was prepared for. An avalanche of business fell into my lap this week, and I'm still trying to dig my way out.
As if the accumulation of the last couple week's abandoned maintenance wasn't bad enough.
And while I work my 12-14 hour days, life continues on without me. God, I wish I had more time to spend with my daughter.
Craig
took this shot while he and Stacy were babysitting her last friday night. Selah, my intoxication. [SIGH]
Well, while life insists on foraging ahead, here's some random thoughts and happenings.
-:: Don't go see "Once Upon a Time in Mexico". Why, you may ask? Let's just say they traded Selma for Enrique, and even Depp couldn't pull this one out of the "should've gone straight to video" category.
-:: This coming Monday is my wife's birthday, and to celebrate, we are ditching my family reunion for the second year in a row and go out with friends to Universal City to celebrate. And yes, the majority of my family that has not seen my daughter, let alone me or my wife since we married is going to be pissed. What can you do? Priorities...
-:: Mike posted a great link to a website that I am particularly fond of. It's in that strange category right in between morbid and beautiful. Check it out. P.S.--take your time, and move the mouse around each shot(though They're actually better without the animation...).
-:: My baby sister's birthday is Sunday. I helped her score a new board--mini tank, 8'0", shaped by one of my buddies up in Pismo Beach. I think she's going to love it.
-:: Next Thursday-Sunday, a bunch of men from The Bridge Communities will go away once again to our annual man-fest at Lake Nacimiento. I'm very excited--I'll definitely be looking forward to the few days of solace. Though I have no idea how I'm going to manage taking another few days off...
-:: I have 10 voice mail messages on my cell phone right now that I'm dreading the act of checking. Not because I expect any of them to be bad, but because I don't want to spend 5 minutes + listening to them. I've got more important things to do with 5 minutes. Like...blog, for instance (rates pretty high on the productivity and viability scales), and grab my fourth cup of coffee this morning. That's right, 4--and it's only 8:40.
This afternoon I have to bail work a bit early and get home to watch my daughter while my wife goes to teach voice and piano. Maybe after putting her down for her nap I can unravel in God's story.
9/12/2003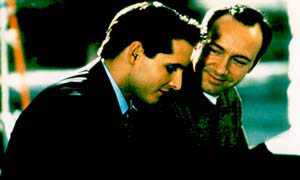 "The Big Kahuna"
Last ngiht my wife and I rented and watched
"The Big Kahuna"
, with Kevin Spacey and Danny Devito, after being stunned by a small clip from it at the Soliton Sessions. Wow. This movie was created on a very small budget in only 16 days, and I highly recommend it. I won't even go into how intense the movie's dialogue is. Just go rent it.
Just posted on the
Postmodern Theology
blog. Check it out
here
.
9/11/2003
God with us
While reading
Craig's
thoughts for the day, I tripped and fell over a phrase toward the end of his post.
"Immanuel...God with us"
Immediately, my attention was drawn back to yesterday's post on my conversation with the Jewish woman, and how she had described the absence of personal contact with the God she believes in. Of course I was taken to
Isaiah
and then
Matthew
, where the messianic child is foretold and then heralded as the figure. He will be called, "God with us". How interesting. Sure, it's simple--and most of us have learned this over and over--but there's substance in its contemplation. Even in ancient Jewish tradition, it was spoken that One would come and reboot the system of interaction between God and man. That One would bring this removed figure of God to the center of humanity--to live and breathe among, and to share every aspect of life with. And at the same time, it's so easy to imagine how that foretelling was interpreted by the Jewish people. To them, "God with us" most often related to God being on their side during war, and liberating them again to a state of independence from foreign rule. In that one statement alone is an understanding of what was expected of this Messiah, and why he was not recognized by his own people. It also reveals the necessary nature of his character and death. Wow.
God with us. God among us. Our father which exists in the very air that we breathe and move in. What a revolutionary message of that day--as well as ours.
the heart of a father
Last night was a great night. I got home around quarter till 8:00pm, after a grueling experience with a blown out tire on the freeway. When I walked in, my daughter looked up at me from her toys, and began to smile and giggle. She's just getting to an age which she recognizes me. To have my daughter look up and bounce with excitement on my entry to our home is like a dream come true. So I went to her, threw her up in the air, and brought her back down to the floor to play with me. We had such a good time. We have a new game that we play. She crawls over to me, sits up and then crawls away giggling. Then I chase her on my hands and knees, grab her and tickle her by nuzzling my nose in her neck and sides. She then explodes with the cutest giggle I've ever heard and then the chase resumes. I love it. I think that this is the first actual game of repeated interaction we have played together.

And that alone made my night. I love chasing her, and she loves being chased. After we put Selah to bed, Gina and I watched Good Will Hunting. Great movie. I was especially aware during this particular viewing of it, of the fatherly elements of the story. The fact that Will had none, and that those that were suppose to stand in that stead abused him rather than love him. And I love Robin Williams' character in the movie. Though his first encounter with Will brought a tremendous amount of pain, Robin pursued him. The resulting healing was beautiful. "How do you like them apples?"

Father, would you today care for the fatherless, the abused, the ignored and neglected. Continue to pursue them, and let them know that "It's not their fault." Would you immerse them in your healing touch; intimately surround them with your grace. And place me in their way, that I can be used as a catalyst of that restoration.

9/10/2003
Conversations with a Jewish Woman
That almost sounds like a narrative form the Bible. Today I took a client of mine out to lunch to discuss her portfolio and changes we had been discussing for the last few months, when the conversation evolved into a spiritual discussion for about 25 minutes.

Knowing she was Jewish, I asked her what synagogue she attended. I think she was taken aback by the question, but after she resolved my intention in asking, she told me. She began to share about her family, her Jewish childhood--even how her sister had found Christian Science. She shared how she felt about general semitic and anti-semitic stereotypes, and how she felt about the local rabbis. I think suddenly she became uncomfortable with how much she was sharing because she paused mid-thought for a moment, and then began to ask me about my faith.

It was a bit difficult trying to reconcile my faith to what I could successfully communicate to this 62 year old Jewish woman, but I did my best. I explained my history, the particular evolution of the last few years, and how thankful I was for the varying perspectives of those around me. It did more than set her at ease--it intrigued her. She had no idea how involved I was in a local community of faith. Nor did she have any idea how much I understood her faith and (at least as an outsider) the historical plight of the Jewish people. After the initial uneasiness of communicating my heart subsided, the conversation became extremely refreshing. We were both able to laugh and understand each other, at least to a degree, in a way we had not ever shared. Though the nature of our relationship is professional, I found myself wondering in the conversation why I had never discussed this with her before. She concurred when I shared that who we are in our professional roles is not who we are at the end of the day. There's something deeper in each one of us. "Maybe this is why some people say that when you retire is when you start living", she said. How interesting.

She went on to continue to share about her sister's joy, and the hope she'd found in the Christian Science movement. So I asked her what she thought of that. And her reply was somehting that I knew, but had never really hit me. She said, "Well, the whole idea of a personal God is not something that Jewish people believe in. We don't believe that our God is here, among us, interacting with us when we pray. That's something that Christianity and Catholicism created when they began."

After I dislodged the california roll from my throat, I grappled with that. How interesting. At the bottom line, what Christ brought to the earth was not just redemption and a reflection of God's nature, but a level of intimacy and interaction that was not common to the way God had interacted with his people for the previous 6-10,000 years. What a cultural shift! I had always reserved myself to knowing that without really wrestling with it. It wasn't jsut that he died and returned to life to call humanity to him, but was the very phrase that he often said while speaking during his life. "The kingdom of God is HERE." I don't think the Jewish culture could even get their arms around what that meant. For that matter, I don't know if I can either. In the same way, "Our Father who is in heaven", is not translated "Our Father who is in that place we believe we are going when we pass from here". Instead, heaven referred to the atmosphere--the very air we breather and move in. He was saying that no longer will God exist in some quasi-deist absence from mankind, but that now God was here, to move in and among people. What a mindjob that must've been.

Our conversation continued, but I am still spinning from all the stories she told and how she communicated her faith. And I love that she felt open enough to risk sharing the intangible faith and musings of her life.

9/09/2003
The Soliton Sessions
With much hard work and a few(as in more than one) all-nighters, the Soliton Sessions turned out to be a great success. Not the kind of success that can be calculated in any measurable way, but successful in the sense that the conversations were stimulating, diverse, deep and jolting.
My favorite part about the role in which I played during the Sessions had to be watching it all come together. After two years in the making, watching what was once just an idea born in conversation become a catalyst of movement for others was, well, overwhelming. Everything came off without a hitch. Well, almost everything. We certainly learned alot. And though the group was intensely diverse, there was an all but unanymous reaction of gratitude and inspiration.
Erwin McManus
brought a sense of the future into the present;
Dan Kimball
brought a sense of the past into the present; and
David Ruis
brought heaven into the present.
My "other" favorite parts?? Well, that's tough...but I've been thinking about it.
1. One of the biggest things for me personally was observing the momentum of our team. In two weeks, some of us are gathering to redesign our own leadership culture, and I think there were various organic depictions of service that will help us in that process.

2. Jon Reid. Jon is a great guy, and I must admit. He caught me offguard on more than three occaissions. This not so silent programmer from San Jose was one that I loved watching during the sessions. He brought my family gifts, and was himself a gift to the flow of the weekend. He defies label and definition, and is full of love and patience, as well as an eagerness to encounter God in any form he can. I wish he lived closer--I think we'd have to cause a lot of trouble together. Check out his photos of the Sessions.

3. Dan Kimball. There's much to digest--not just on what I gleaned from set times of dialogue, but what I gleaned from the postures of humility and sensitivity he emanated. I think it becomes easy when you've been around conversations about the future as much as he has, to grow a bit weary of some of the "franchising" questions, and the pomo groupies. But he met the groups he engaged with an incredible sensitivity, and because of that many were able to learn. He added a strong pastoral element to the Sessions that was beautiful and necessary--and something that is rare in environments like this. He brought Josh Fox with him, a songwriter and worshipper from VFC, who's an all around great guy. And of course, the water-based pomade Dan hooked me up with is great. (though it'll take much more than that to restore the ol' pomp)

4. Jeremy & Jamie Wells, artists from Ecclesia. I particularly loved the way Jamie would flip her paintbrush and secure it in her hair like a chopstick when she wasn't using it.

5. Shayna Metzer from The Ooze came. It was great watching her sit and absorb all that went on around her. You would think that being around as many conferences as she has been, you would grow calloused to those environments. But she was engaged and touched, and I think that says something about what God was doing.

6. Worship was huge. God I love that woman that you've given me, and what comes out of the depth of her being. I love being interrupted in my own expression of worship with the realization that the most beautiful things I experience of the tangibility of God are created by my soulmate.

7. Tattoos. Yep, tattoos. Though we had temporary tattoos for all the registrants as identifying marks (rather than nametags), we also had Sid and Christopher from Sid's Tattoo Parlor there. My wife and I each got our first tattoos, and [i love this] so did David Ruis. "Consider the Poor". What a great experience.
There is so much that I learned on so many different levels. In circles of facilitation and design of environments like the Sessions, in collaborative leadership and empowerment, and in personal reflection.
Though I am exhausted, I feel so full of the beauty that existed in the reflection of God that permeated the people, the expressions, and the conversations. I have much to meditate on, and much to be thankful for.
9/03/2003
I was up until 2:00am last night, preparing for this weekend's events. And up again at 4:30 this morning, at the call of my alarm clock. Aaahhh, the working life. At least I'm able to take off any time I want to, like tomorrow and friday for the Sessions. The catch is, though I
can
take the days off, it totally stresses me out to do so. I've got so much work piling up on me--and I get anxious to get back in the saddle over a weekend, much less a 2 day work week due to Labor Day and the Soliton Sessions. Oh well. As my father always used to say, "It's only going to be what it is."
Stress aside, I'm loving life right now. I'm very excited, and have that meet-a-deadline kind of stress that I thrive on. There is much left to accomplish. Construction details to finalize and finish, art spaces to be designed and rearranged, teams to meet with, furniture to rearrange, merch to set up, media support to polish, and on and on. But it will all get done--even if I have to be there all night long. I'll make sure to take some pictures and post them on the blog when I return.
If you have time, please pray that the loose ends get finalized, and that the Spirit of God is centrally and tangibly present throughout the Sessions, in the fabric of everything that goes on. Be back on Monday!
Archives
04/01/2003 - 05/01/2003 05/01/2003 - 06/01/2003 06/01/2003 - 07/01/2003 07/01/2003 - 08/01/2003 08/01/2003 - 09/01/2003 09/01/2003 - 10/01/2003 10/01/2003 - 11/01/2003 11/01/2003 - 12/01/2003 12/01/2003 - 01/01/2004 01/01/2004 - 02/01/2004 02/01/2004 - 03/01/2004 03/01/2004 - 04/01/2004 04/01/2004 - 05/01/2004 05/01/2004 - 06/01/2004 10/01/2004 - 11/01/2004 11/01/2004 - 12/01/2004 12/01/2004 - 01/01/2005 01/01/2005 - 02/01/2005 02/01/2005 - 03/01/2005 03/01/2005 - 04/01/2005 05/01/2005 - 06/01/2005 06/01/2005 - 07/01/2005 10/01/2005 - 11/01/2005 12/01/2005 - 01/01/2006